What Bessie Did
Bessie's amazing winter
I write this in the hope that within a few weeks all the blossom will be out, the sun will be shining and all the lakes that shouldn't be there have drained away.  I love the change of seasons but it has been a hard winter outside with the animals and I am looking forward to Spring more than ever this year.  We have been very lucky where we live, escaping the flooding horrors of families not so far away from here.  It's just time to reflect that October to February hasn't been all bad – in fact it's been pretty amazing.  Here are just a few of the events and adventures that Bessie went on.
For a whole month Bessie was based in the fantastic new concept Trinity Kitchen.  Each month, five new street food traders are lifted into the centre to serve the people of Leeds. Bessie was part of the second group in with a fantastic group of traders that made the month such a memorable experience.  The Trinity Kitchen was developed by the centre with Richard Johnson – a man who writes, promotes and innovates in the world of street food. Bessie arrived after 81/2 hours of travelling, losing part of the roof on the way! I had thought people were waving at me on the M25 as they so often do when you are towing a little vintage caravan.  However, after too many waves I pulled up on the hard shoulder to check all was ok – looked fine to me. It wasn't until the next day when I was unpacking when I realised I had a missing skylight.
The people of Leeds were just brilliant, so friendly and helpful and I was pleased to find large numbers of tea and cake lovers.  Each day were were open from 0900-2100 so I baked, baked and baked some more – all in a very, very small oven just large enough to fit in half a Victoria Sandwich – I must have been mad! The Kent mulled cider was well received but I think the Sloe Meltdown made with homemade sloe gin and belgian chocolate warmed in a shot glass raised the most smiles.  I made enough triple Belgian chocolate brownies to feed all of Leeds and the Malibu and coconut cake was a real hit.  Several thousand portions of cake later, I towed Bessie back to Kent for Christmas. Thank you for having us there Leeds – we loved it.
Well that's a round up of some of the Autumn / Winter events for Bessie in 2013/14.  I hope you enjoyed the pictures from Canterbury, Stalisfield, West London, Birchington and Leeds.  Ooh she gets around.
Bessie loves a Foodie event
Following on from the British Street Foods Awards in Dalston, Bessie enjoyed some other great food events.  If you haven't been to the Broadstairs Food Festival or Brogdale Apple Festival I urge you to do so – such great traders offering such a wonderful variety of food.  I have been involved with Broadstairs Food Festival since it was just a thought and the organisers work so hard with an army of volunteers to make it a fantastic family event.  Attracting thousands of visitors each year, both of these Festivals surely should not be missed.
A very special day – Lisa and Scott invite Bessie!
Bessie is a British Street Food Finalist
Well, what a way to end a first year of trading- Bessie was invited to attend the British Street Food Awards (No, wait! It was the European Street Food Awards) at Dalston Yard, London.  Searching for the finest Kent ingredients I began planning for Bessie's adventure to the City.  I was so lucky to have an abundance of our own wild blackberries, windfall apples from my friends at Little Stour Orchard and a donation of some very special Gadd's Kent beer.
I certainly wasn't disappointed with the event – a whole yard full of the most interesting people and their quirky vehicles from which they trade. The food they served up was fresh, vibrant, tasty and just amazing. Richard Johnson who organises the event certainly knows what he is doing when it comes to raising the profile of Street Food.  He was joined by judges Fay Ripley, Tom Parker Bowles and Simon Anderson.  Then of course there was the people's choice / votes- Bessie came 3rd in the Best Looking Street Food Mobiler so massive thank you to everyone who voted for her.
Here are some pictures of Bessie and chums enjoying the event.
Philippa and Lee get married
It was a whole year ago when Bessie was asked to be at the wedding of Philippa and Lee whilst I was at my first wedding fayre at the very beautiful Salmestone Grange in Margate.   A year on and I was so excited to set Bessie up right at the entrance.  It's such an honour to be part of such memorable celebrations.  Philippa had planned every last detail and made her own signs, a sweet bar and decorations that just fitted so well with the setting and so personal to them.   It was such a happy day and much laughter inside the Bessie photo booth.  We were lucky to have student photographer, Tori Bartlett, with us for the whole day and she certainly captured the spirit of the day.  Here are just a few photos of that special day.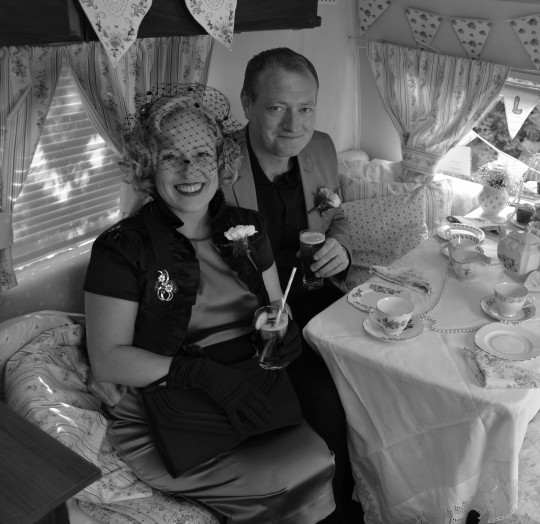 Bessie graces The British Family Fayre
Having followed the Bradshaw family's journey to buy British-only for a year with great interest via twitter, I was delighted to have the opportunity to join them in celebrating at a wonderful British Family Fayre they had organised with Lincoln West Ltd.
My key reasons for participating in the event were to support them in raising the profile of British businesses and to meet other manufacturers and producers in order to find out about their products.  Bessie is a traditional British vintage Cheltenham Fawn caravan manufactured in the 1960s. Her vintage style canopy has been custom made in Faversham, Kent by Wilkinson's Sails. She has been beautifully restored and now operates as a unique pop up tea room serving a truly British menu.  Almost all of ingredients I used at the Fayre were British, with many ingredients being produced within 20 minutes of my home. There are some wonderful local producers available to us and I hope that the Fayre will go some way to raising awareness.  On the day my menu included:
Freshly baked cheese scones made with Kent butter and a very delicious Kent Ashmore Cheese, produced by The Cheese makers of Canterbury.
Apple and blackberry pie, made with fruit picked just the day before from my smallholding.
Victoria Sandwiches filled with wonderful South barn Gifts homemade jam.
Sweet scones bursting with clotted cream and jam.
Apple crumble cake, made with local, freshly picked discovery apples.
Sausage Rolls made with pork produced by Chandler and Dunn.
Bessie serves drinks for seated guests in vintage china but I am keen that the takeaway experience is a pleasure too.  Bessie's cups were made in Britain by the Paper Cup Company and the design by Nigel Wallace of 'White one Sugar' in Faversham, Kent.
Apple and Pear juice from Hearts Delight Farm was served alongside Tisanes grown in Kent by 'The Flower Patch Farm', including English Peppermint.
There are some items that I have been unable to source, for example, British coffee for my coffee cake.  However, the Bradshaws have inspired me to take up the challenge of sourcing British produce whenever I can. My aim is to support Kent producers first and foremost and when that is not possible to try and buy British.  Hopefully, there will be less and less reason to shop abroad for basic foods.
From the onset of the Fayre, I was serving a queue of people eager to sample the food I had prepared.  It was wonderful that so many were interested in where the food has come from and how it was cooked. Bessie was so busy all day with people sitting inside enjoying a nostalgic treat and telling their own stories of British holidays, childhood memories and plans to develop their own little vintage style escapes in their gardens.  I wish I had taken more photographs but I was so busy I just didn't have the time to stop.  By 5pm I had completely sold out of all food along with all of the apple and pear juice.
There was much interest in Bessie throughout the day and all of my business cards were taken.  I met some lovely and interesting people that I hope I will keep in touch with via social media or at future events.  Numerous people came to see me that said they followed me on twitter and were pleased to see Bessie 'in person' at last.  Some people came in for tea on more than one occasion, some waited patiently to get a seat, worried that if they walked away and came back later they may never get to take tea inside.
As for my expectations of the day – well, they were far exceeded.  It really was an amazingly British day and the feedback from customers about the day and the ethos behind it was magnificent.  My only disappointment was that I was so busy I didn't have chance to look around the Fayre to meet other businesses and view their products. I am however, communicating with many of them via twitter – which is after all where I found out about the Bradshaws in the first place.  I wonder if there is a way a trade time could be incorporated next year?
Thank you to the Bradshaw family for leading by example and letting us share in your midway celebrations. Britain needs you!
A vintage weekend for Bessie
At the beginning of August, Bessie attended the most fabulous 40's / 50's event at the Farrier's Arms in Mersham, Kent.  The previous weekend we were at the same venue for a music, beer and cider event – both very happy weekends.  Classic cars, steam engines, aerobatics, singing, dancing, stalls, food – you name it they had thought of it.  The whole village seemed to turn out to support the event and it also attracted people from much further afield.
A beautiful wedding in Essex
When I was approached by Alex of Bijou Brides to see if Bessie would travel to Essex I was delighted to find it was a date I could attend.  The Indian Bride and English Groom wanted a fusion of Indian culture and traditional English celebrations for their wedding.  The venue was a most beautiful country house, The Fennes, in Essex with the most stunning gardens – perfect for a romantic wedding.
I set about washing and polishing 120 vintage china cups and sauces, tea plates, cake stands and cutlery – all ready to serve the welcome Pimm's and the traditional Victoria Sandwich, Lemon Drizzle and scones with clotted cream and home made jam.
The day came and following a journey in very heavy rain, Bessie had just half an hour to set up – in thunder and lightening.  Thankfully, the venue had two beautiful entrance rooms so I set up one with the drinks and one for food.  The Bride, Groom, Bridesmaids and all the guests looked just stunning.  In no time, they were tucking in to a traditional English afternoon tea and everyone really enjoyed all the china.  Within moments of the ceremony finishing, the sun was shining and the wedding party were able to step outside to the bands playing, the games on the lawn and of course photos with Bessie.
My photography is not too good but here are a few photos whilst I await those from the very talented official photographer.
A Mad Hatter's Tea Party
Attending events at Brogdale Farm in Faversham is always a treat. There is an abundance of local, fresh produce and local crafters and artisan producers. Well, the Cherry Festival was no different – apart from the fact that there were some crazy people about! Must be the first time I had been asked for tea without tea, oh and no sugar and no milk and water that was not too warm – you guessed it, the Mad Hatter was out with Alice.  Good job Bessie had her Alice in Wonderland bunting out and a sign confirming we were celebrating our unbirthday.
Bessie is on TV!
Following a brief telephone call back in December 2012, Bessie was selected to feature in the new Rightmove TV commercial.  It was a frosty day travelling to North London for the shoot and what an amazing location!  Bessie was rolled into position with care and precision onto the edge of a golf course – ensuring she didn't set off or damage the underground sprinkler system.  It was some months before I could see how she would be used – well, here it is if you haven't seen her on TV already.
http://www.rightmove.co.uk/news/my-dream-home
A most romantic home wedding
When I was asked to attend Rebecca and Tristan's wedding with Bessie, I was so excited.  Not only were they a lovely couple but all the family were just delightful. To top it all, the celebrations were to take place in their family garden.  With my china polished and linen pressed we set off around the M25 with anticipation of a very special day.  The sun was shining – it was going to be a perfect day.  The china tea cups were filled with iced Pimm's, homemade Elderflower Cordial and homemade Lemonade whilst little milk bottles were topped up with milkshake made from Kentish strawberries and Kentish icecream – well we had to take a little bit of Kent countryside with us!  Flowers filled teapots and bunting swayed gently in the breeze.
With emotion, Rebecca and her dad came out to Bessie before taking those momentous steps to the sunken garden where all their friends, family and the lovely Tristan were waiting excitedly.  What an honour to see them at this magical time.
I will always remember this day
http://www.youtube.com/watch?v=BzhmxcjVnFI&feature=em-share_video_user
The most romantic little video clip – well worth a view
Wishing them both years of happy times together
Summer days out with Bessie
Wow, what a wide range of events Bessie has had the absolute pleasure to attend.  From private parties, weddings, music festivals to charity events and horse shows, Bessie has brought a smile to many visitors and we have met some most interesting people.  Here are just a few pictures that capture the essence of our summer so far – hope you enjoy browsing them.
Happy days for Bessie
Well, despite snow, rain and a chilly winter, Bessie has had many happy days meeting lots of new people over the last few months.  We are certainly ready for the summer but here are just a few snaps of what we have been up to.
Well, thank goodness for some lovely indoor markets over the winter months.  I have met some wonderful people – both customers and stallholders.  Although I would always rather be out and about with Bessie it has given me the opportunity to share my love of vintage and vintage inspired items.  I have been amazed at the amount of twitter folk I have had the good fortune to meet – thank you to all of you who have come to visit me at the markets, it makes my day!
A wonderful winter surprise
Who would have thought, that in the depth of a snowy winter, a glorious sunny day would break through to help create a magical birthday surprise for a group of friends from London.  I was honoured to be part of this special celebration called 'Together at Last'.  The bunting was out, the cakes were baked and hay bales surrounded vintage crates for a relaxed gathering on our smallholding.  How romantic of a husband to come up with the idea of a Kentish county walk whereby his wife and children would 'stumble' across Bessie.  Tears of surprise on finding Bessie, friends hiding inside and a specially comissioned cake were soon replaced with lots of laughter.  Children wandered to see the ponies and the little dog enjoyed the freedom of a 10 acre field.  Here are just a few photos of that special day in January.